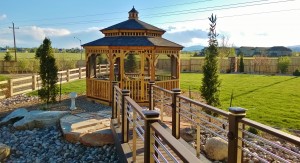 Discover how a gazebo not only adds a distinct feature to your property, but also enables you to better enjoy the outdoors by creating a unique gathering place with protection from the summer sun, rain, and when screened- flies, mosquitoes, and other pesky insects. Each person we speak to has a unique set of circumstances, and that is why we consult, build, and deliver to meet the needs of the individual. All prices include delivery within 25 miles of Fort Collins, CO and include full assembly.
Vinyl or Wood Gazebo
We offer both wood and low maintenance vinyl gazebos. In most cases, the wood gazebo will cost significantly less than the vinyl gazebo. If you prefer a natural look the wood gazebo is your best choice however, it will require some periodic maintenance to preserve its appearance. The vinyl gazebo requires very little maintenance as it is a poly/composite product. Both the wood and vinyl gazebo come standard with a composite decking floor. We build the wood gazebo using a combination of doug-fir and southern yellow pine and include a semi-transparent stained finish.
Gazebo Roof
Our Victorian roof option is also available for the wood and vinyl gazebo. A double or two-tier roof gives the gazebo a Victorian look. The gazebo sub roofing consists of pine tongue and groove. We include a 30-year asphalt dimensional shingle. For no additional charge, we install the shingle color of your choice if it is available and if specified at the time of purchase.
Gazebo Screen Package / Enclosed Gazebo
We also offer a screen package as well as a poly window package that encloses the gazebo and protects it from insects. This package consists of seven screen, or window panels, plus the entry door to fully enclose the gazebo. These panels are removable for winter storage.